Patchwork: A Memoir of Love and Loss
Author: Mary Jo Doig
Publisher: She Writes Press
Publish Date: October 23, 2018
Paperback: 344 pages
ISBN: 9781631524493
About the Book:
Tightly wrapped in a lifelong protective cocoon, Mary Jo has no idea how wounded she is until one starless night following the death of a relative, she has a flashback that opens a dark passageway back to her childhood and the horrific secrets buried deep inside her.
Like a needle stitching together a quilt, the memories she recovers reveal why she feels invisible, stupid, and different. Shattered by these revelations, overcome by depression, hopelessness, and a loss of trust in others, Mary Jo embarks on a healing journey through the underground of her life that ultimately leads to transformation.
My Thoughts:
When I first started reading this memoir, I felt like I was sitting in my living room with Mary Jo Doig and listening to her tell her story. I was captivated from the start and unlike many memoirs I have read, this one was truly interesting - like listening to your mother tell her life story. I picked my mother, because if she were alive, she would be almost the same age as the author.
Her story begins from childhood and this is told as she tells about her quilt that she has been working on. It's captivating and told so well - you feel an immediate connection with the author. As the story proceeds, one finds something is off, and as Mary Jo continues, you will find yourself holding your breath and possibly finding it so difficult to read, you'll have to set the book aside.
Mary Jo's journey to truth and healing is a powerful, powerful story. It will awaken feelings inside you and make you want to deal with those that had made her hit bottom and lose hope and trust. This woman is amazing and her story is well worth the read. Be warned it is difficult at times to get through and may even awaken old memories of friends and family members in your own past. Just know that when one hits bottom - there's only one way to go - UP - and that's what Mary Jo did.
Please note - This book contains abuse - sexual, mental and physical and may not be appropriate for younger audiences or those sensitive to this type of material.
About the Author: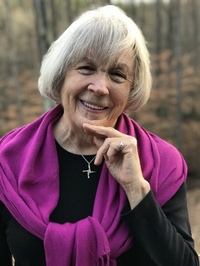 Mary Jo Doig is a life-writing enthusiast who has been coaching women to tell their truth for twenty years. She is a book reviewer, editor, and facilitator of women's writing circles and legacy workshops.
Her stories have been published in
Inside and Out: Women's Truths, Women's Stories
and
Kitchen Table Stories
. Mary Jo writes in the Blue Ridge Mountains, where she treasures quilting, cooking healthy food, hiking with her rescue dogs, and spending time with family and friends.
Patchwork
is her first book.
Visit Mary Jo at:
www.maryjodoig.com
I received an egalley of this book from the publicist. I was not required to write a positive review, but instead, one that gives my honest opinion.