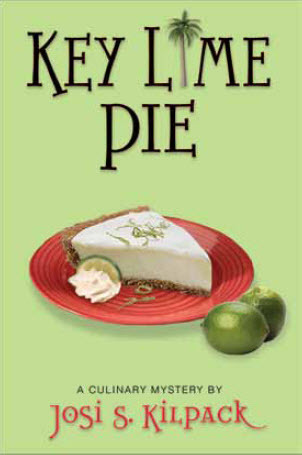 Title:
Key Lime Pie
Author: Josi Kilpack
Publisher: Desert Book
ISBN: 9781606418130
Genre: Mystery, Culinary Mystery, Cozy Mystery
About Key Lime Pie
(from back cover):
"When Sadie Hoffmiller's new friend, Eric Burton, receives word that his missing daughter's body may have been found in Florida, he immediately packs his bags, but Sadie is determined to stay home and prove to everyone that she is not a busybody.

But when she senses Eric is hiding something, Sadie is compelled to take action. Before she knows it, she's in the heart of Miami, trying to piece together a trail littered with broken relationships, mysterious strangers, and forged documents that might just provide Eric the answers he's been desperately searching for—or reveal a truth he may not be ready to face.

Sadie must also face a difficult question: Where is her heart leading her? Onward into Eric's adventurous arms? Or back home to the stable and steady Pete Cunningham? If only love was as easy as following a recipe.

Once again, Sadie finds herself in the company of some colorful characters and on the hunt for some good old-fashioned southern cooking. But despite the drama and intrigue, all Sadie really wants is to go home . . . as soon as she does just one more thing."
My Thoughts:
Josie Kilpack has done it again! Sadie is back and this time she has a love interest and around that interest lies a mystery just begging to be solved with Sadie's help.
This is my second book of the "Culinary Mysteries" by Mrs. Kilpack and the more I read of this series, the more I want! I love Sadie's character. She is a middle aged busy body who is also a clean freak and a culinary snob. Well, maybe snob is a bit harsh, but she is one that critiques the food she eats and many times decides she can do a better job. If not, she begs for the recipe, and writes it down in her "little black book".
Sadie has a way of getting the necessary information to help solve each mystery. If she can't get someone to talk, she's found that food usually loosens the tongue. Sadie also has a way of getting herself into trouble. She's a lovable yet sometimes annoying character that you can't help but enjoy. She's funny, witty, and is guaranteed to put a smile on your face.
A nice plus to the book are the recipes. If Sadie is eating, cooking or discussing a certain dish, you are most likely to find the recipe at the end of that chapter. If you haven't read one of these delightful Culinary Mysteries, make sure to add at least one to your reading list. They are truly a fun read and a nice bonus is you can start anywhere in the series. The books do mention past events, but you don't get the feeling of being lost and missing out.
These mysteries will be enjoyed by those that like cozy mysteries, Miss Silver mysteries or anyone that just wants a nice fun read.
About Josi Kilpack
Josi S. Kilpack grew up hating to read until her mother handed her a copy of The Witch of Blackbird Pond when she was 13. From that day forward, she read everything she could get her hands on and accredits her writing "education" to the many novels she has "studied" since then. She began writing her first novel in 1998, while on bedrest with a pregnancy, and never stopped.
Key Lime Pie
is Josi's twelfth novel, and the fourth book in the Sadie Hoffmiller Culinary Mystery Series. The other novels in the series are:
Lemon Tart (Book 1), English Trifle (Book 2
),
Devil's Food Cake (Book 3
). While the books all feature Sadie Hoffmiller as the main character, they stand alone in regard to plot and can be read as a set or as individual titles. Josi currently lives in Utah with her husband, four children, one dog and varying number of chickens.
For more information about Josi, you can visit her website at
www.josiskilpack.com
or her blog at
www.josikilpack.blogspot.com
Book was provided through the Pump Up Your Book program for me to honestly review.