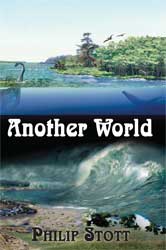 Another World
Author: Philip Stott
Publisher: Nordskog Publishing
ISBN:  978-0-9796736-9-6
Pages: 284
Genre: Science Fiction/Adventure
About the Book
Scientist, educator, and author Philip Stott takes us on a harrowing journey back to the future. The time: a few thousand years ago. The place: a world we can barely imagine—and may not want to. Here there is much to amaze, but there is also much to appall. Here, all but a few have forgotten God; here, note but a few realize what is coming—terrifyingly—from above and beneath. To enter that world is to risk seeing our own. But enter it you should—the better to prepare yourself for another world that is soon to come.
My Thoughts
I think my favorite genre has to be fantasy/science fiction. I love the make believe worlds of fantasy and enjoy the futuristic storyline that science fiction holds. I love heroes with a purpose, villains who want to ruin it all, and situations that could never happen - or could they?
"Another World" provided everything I adore about this genre. It combined past with future, and gave a fantastic twist to one of my most favorite Bible stories. When I was offered the chance to review this Christian Science Fiction story, I jumped at the chance out of plain curiosity. My curiosity paid off!!
This was one exciting and fascinating story. The use of dinosaurs and mag-sleds and a very well know story of the Bible made this a story that one knows, but at the same time, doesn't. It is real, terrifying, and yet seems so impossible, or is it?
Mr. Stott is a brilliant writer. He created a fantastic piece of Christian fiction that will delight anyone who enjoys reading fantasy or science fiction. It is not geared to either sex (unlike most sci-fi) so it can be enjoyed by all. It is suspenseful and exciting and will keep you wanting to keep reading - even though you are sure of the outcome. The end is no surprise, but will still leave you saying "WOW!!!" and leave you satisfied. I LOVED this book, and hope that Mr. Stott plans on writing much more in the future. He is brilliant!!!
This one comes HIGHLY recommended - for teens through adults!!!
About Philip Stott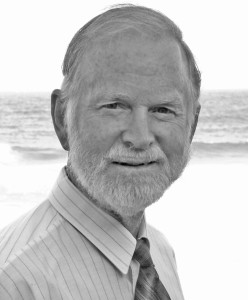 Philip Stott
was born in England in 1943. He studied at Manchester University, where he obtained B.S. (with honours) and M.S. degrees in Civil Engineering. He lectured at universities in Nigeria and South Africa and carried out research in the analysis of geometrically nonlinear structures. He shared the Henry Adams Award for outstanding research in 1969. While lecturing at the University of Witwatersrand in Johannesburg, South Africa, he studied biology. After leaving Wits he joined an engineering consulting firm. His ongoing interest in all aspects of science led to studies in mathematics and astronomy with the University of South Africa and, later, to four years of part-time research with the Applied Mathematics Department of the University of the Orange Free State in Bloemfontein, South Africa.
After many years as a firm atheist, he was converted to Christianity in 1976. Following several years of studying the conflicting claims of secular science and Scripture, he actively entered the Creation/Evolution debate in 1989.
In 1992, he was invited to address a conference in Russia and since then has lectured, addressed conferences, and taken part in debates in eastern and western Europe, America, Canada, and southern Africa. Venues have included the European Centre for Nuclear Research (CERN), a UNESCO International Conference on the Teaching of Physics, and the Russian Academy of Sciences.
Philip Stott is married to Margaret (born Lloyd). They have two children, Robert and Angela; and two grandchildren, Sean and Julie. They live in Bloemfontein, South Africa.
You can read more about Philip and his novel,
Another World
at
http://nordskogpublishing.com/book-another-world.shtml
This book was provided through the Pump Up Your Book program for me to honestly review.