Body Parts: A Collection of Poems About Aging
Author: Janet Cameron Hoult
ISBN: 9781432755980
Publisher: Outskirts Press, Inc.
Genre: Poetry, Humor
About the Book
: (taken from Barnes & Noble)
Which body part will be the next To make you think that you're a wreck That you've gone so far over the hill All you can do is take a pill
But wait! There's something else to try Something to make you laugh, not cry It won't add insult to injury For it's a book of humorous poetry
Poetry designed to help us cope To make us laugh, to make us hope And remember that we have lots of "Heart"
Even if we're missing some "Body Parts"
So, pick up a book, find a comfortable chair and laugh along with the author and her poetry about our changing body parts - loss of hair, sight and hearing as well as knees, legs and some internal organs! These poems will tickle your funny bone and help you to remember that although we may be growing old there's life in us yet!
My Thoughts
:
I don't know much about poetry, so I won't be commenting on the structure of the poetry itself, just my reaction to reading the poems. With that said, I loved this book. The poems were not only truthful, but were quite humorous. The poem "Wasted Tasters" had me nodding my head and smiling. So many times I've told my husband that things just don't seem to taste as good as they used to. Is it because of the way the industry now makes things, or is it because I'm aging? :) Then there's "Have You Seen My Glasses?" which I know that Janet was watching me here before she wrote that poem!
There are close to 50 poems about aging, and you don't have to be elderly to enjoy them. I have shared this book with a few friends, and they all had the same reaction I did - we all loved it! This certainly is a great book to lighten the mood and just make one smile.
About Janet Cameron Hoult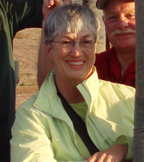 Professor Emerita at California State University, Los Angeles, Janet has lived and traveled all over the world - high school in Iran, universities in Lebanon, France and the United States, teaching assignments in Germany, Korea, Japan, Thailand and China.
Now in her 70s, Dr. Hoult and her husband, Charley, live in Southern California with their two dogs and continue their adventures chasing solar eclipses, mentoring student rocketeers and visiting their grandchildren and great grandchild. The author's proceeds from the sale of this book will go to the CSULA Emeriti Association scholarship endowed in memory of her son, David Cameron Fisher.
Book was supplied by Bostick Communications for me to honestly review.