I am pleased to be able to once again be part of the tour hosting Pamela Samuels Young, author of the legal thriller, "Buying Time". She was kind enough to share a guest post with us last week If you missed it,
you can read it here
. Today, I'm focusing on Pamela's book - a thriller you don't want to miss!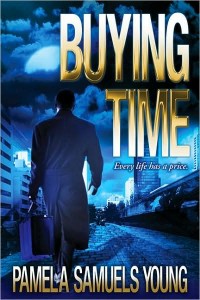 Buying Time
Author: Pamela Samuels Young
Publisher: Goldman House Publishing
ISBN: 9780981562711
Genre: Fiction, thriller
About the Book
: (from PUYB):
"
Buying Time
"
is a scandalous tale of blackmail, murder and betrayal
,
evoking John Grisham with a dash of Terry McMillan.
Waverly Sloan is a down-on-his-luck lawyer. But just when he's about to hit rock bottom, he stumbles upon a business with the potential to solve all of his problems.
In Waverly's new line of work, he comes to the aid of people in desperate need of cash. But there's a catch. His clients must be terminally ill and willing to sign over rights to their life insurance policies before they can collect a dime. Waverly then finds investors eager to advance them thousands of dollars—including a hefty broker's fee for himself—in exchange for a significant return on their investment once the clients take their last breath.
The stakes get higher when Waverly brokers the policy of the cancer-stricken wife of Lawrence Erickson, a high-powered lawyer who's bucking to become the next U.S. Attorney General. When Waverly's clients start dying sooner than they should, both Waverly and Erickson—who has some skeletons of his own to hide—are unwittingly drawn into a perilous web of greed, blackmail and murder.
Soon, a determined federal prosecutor is hot on Waverly's trail. But when the prosecutor's own life begins to unravel, she finds herself on the run—with Waverly at her side.
My Thoughts
:
I normally don't read thrillers by women, because those that I have read in the past have been, ummm... substandard. Maybe it's just been the books that I've chosen in the past, but they have seemed to lack what most male authors bring to the storyline - something that grips me, makes my heart pound and holds my interest. So, I sat down with this book with that attitude, and was quickly surprised and pleased. This is one gripping story that I couldn't put down.
The characters were wonderful, well developed and quite realistic. They were brilliantly written to allow one to get involved with their lives and caused me to really adore some and hold great disdain for others.
The storyline was exciting and held my interest from the first page. Pamela Samuels Young writes masterfully and with a passion that makes this book really work. She has a series of books out called the "Vernetta Henderson Mysteries" that have made it to the top of my wish list. After "Buying Time", I can't wait to read these. Pamela Samuels Young is definitely a writer to keep an eye on!!
About Pamela Samuels Young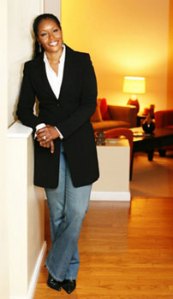 Corporate attorney Pamela Samuels Young has always abided by the philosophy that you create the change you want to see. Fed up with never seeing women or people of color depicted as savvy, hot shot attorneys in the legal thrillers she read, Pamela decided to create her own characters. Despite the demands of a busy legal career, Pamela accomplished her ambitious goal by rising at four in the morning to write before work, dedicating her weekends to writing and even spending her vacation time glued to her laptop for ten or more hours a day.
The
Essence
magazine bestselling author now has four fast-paced legal thrillers to show for her efforts:
Every Reasonable Doubt
(BET Books, February 2006),
In Firm Pursuit
(Harlequin, January 2007),
Murder on the Down Low
(Goldman House Publishing, September 2008) and
Buying Time
(Goldman House Publishing, November 2009).
New York Times
bestselling author Sheldon Siegel described
Buying
Time
, Pamela's first stand-alone novel, as a "deftly plotted thriller that combines the best of Lisa Scottoline and Robert Crais."
Pamela has achieved a successful writing career while working as Managing Counsel for Labor and Employment Law for a large corporation in Southern California. Prior to that, she served as Employment Law Counsel for Raytheon Company and spent several years with the law firm of O'Melveny & Myers, LLP in Los Angeles. A former journalist, Pamela began her broadcasting career as a production assistant at WXYZ-TV in Detroit, where she was quickly promoted to news writer. To escape the chilly Detroit winters, she returned home to Los Angeles and worked at KCBS-TV as a news writer and associate producer.
Pamela has a bachelor's degree in journalism from USC, a master's degree in broadcasting from Northwestern University's Medill School of Journalism and received her law degree from UC Berkeley's Boalt Hall School of Law. She currently serves on the Board of Directors of the Southern California Chapter of Mystery Writers of America and is the Fiction Expert for BizyMoms.com.
Pamela is a frequent speaker on the topics of discrimination law, diversity, writing and pursuing your passion. She is married and lives in the Los Angeles area. To contact Pamela or to read an excerpt of her books, visit
www.pamelasamuelsyoung.com
.
This book was provided by the author through PUYB for me to honestly review.